1. Moscow. Building of the main Telegraph Office in Tverskaya Street. Is this too cool, or what??? All the images of Moscow I've ever seen have been those huge, stately buildings, which really says nothing about life there. THIS, however, does! Look at the Samsung sign on the building…the colors…the vehicles…the people…the size of the street…MOSCOW! 🙂
2. Pretty flower, from Finland. This is from a flower tag…not sure why I selected this for my blog, other than perhaps because I want to be able to take photos like this someday 🙂 (This card arrived and was set aside for blogging in early October!)
3. Mt. Washington, New Hampshire. This shows the cog railway at Mt. Washington State Park, also home of the Mt. Washington Observatory. At more than 6,000 feet, this is one of the higher peaks on the East coast of the U.S.
4. Getting her hair moosed. I got this from a swapbot unusual card swap….thought it was pretty funny 🙂
5. Chile. A very exotic location from which to have postcards. The front said, un pais de ensueno…a country of….? I don't know. Very pretty images though!
6. Paul Klee Center, Bern, Switzerland. This, I believe, is from a private trade. I love everything about this card (except that maybe the images are too small 🙂 The shape of the building….(I've never seen anything like it)….the outline of the streets and the jammed-in houses on the little islet or whatever it is….and the lovely, old street with boldly sized and colored flags! Beautiful 🙂
7. The University of Tampa in Tampa, Florida. My sister is a professor here. It's lovely…a beautiful campus (or at least what I've seen of it)!
8. FBI Building in Washington, DC. My sister, the college professor, sent this to me as well. She often travels to DC as an advisor to the government on many important issues. I always imagine that behind all the windows are all these spys on computers, hacking away and furiously trying to break codes and all that spy stuff 🙂
9. Map of the Metro, Washington, DC. The Metro is really an awesome way to travel around DC! Just hop on the train and wind your way around the city…stopping at locations all around! Love it!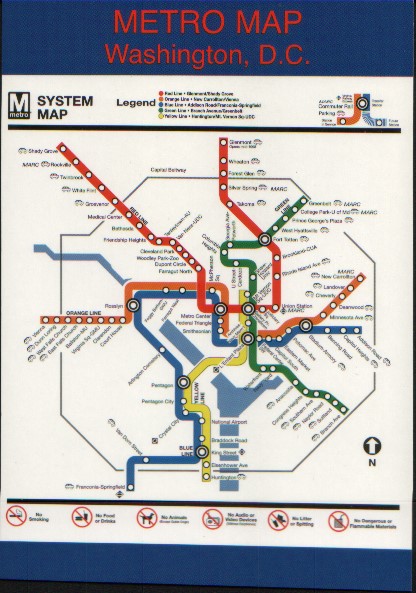 10. Salt Lake City, Utah. This view is awesome. There's something about airplanes that amaze me (and scare the bejeebers out of me!)…and with those buildings and mountains in the background…ahhh! What a picture!
Did you like this post? Share it!